Frequently Asked Questions
Course
Enrollment for this course is currently closed.
About
Frequently Asked Questions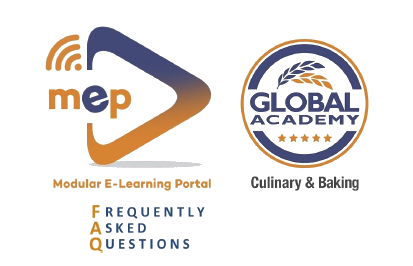 CONTENTS
ABOUT THE PORTAL
ABOUT THE PROFESSIONAL PROGRAMS
ABOUT INTERNSHIP AND EMPLOYMENT
ABOUT TUITION FEES, PAYMENT, AND ENROLLMENT
ABOUT THE SCHOOL
ABOUT THE PORTAL
The Modular E-Learning Portal (MEP) is a web-based learning management system created by Global Academy to deliver learning content for its professional culinary, baking, and pastry arts programs. Students can access course syllabi, schedules, recipes, lectures, video demonstrations of techniques and recipes, assessments, grades, and other academic or course-related materials 24/7 on multiple platforms and devices. Enrolled students, whether in ON-CAMPUS or ONLINE programs, will have unlimited access to all course features for the duration of their enrollment, in addition to providing them the following benefits.
supplier resources for ingredients, tools and equipment

a variety of communication options with the school and instructors

unique insights and personalized feedback from instructors

monitoring student progress and performance

access to online learning forums

curated supplementary learning materials
ABOUT THE PROFESSIONAL PROGRAMS
WHAT PROGRAMS ARE OFFERED BY THE SCHOOL?
Global Academy offers the following professional programs.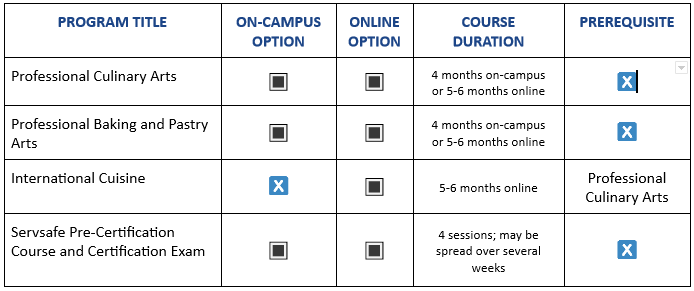 For full details of our courses, please visit the website .
TELL ME MORE ABOUT THE ONLINE PROFESSIONAL PROGRAMS?
For those who prefer to learn at their own pace and location, Global Academy offers professional programs that are 100% ONLINE, providing both theoretical and practical knowledge and skills required for success in a professional kitchen setting. Upon successful completion of each program, students are eligible for internships at any restaurant, hotel, resort, or commissary that has an approved partnership with Global Academy. Our online professional programs offer the same high-quality culinary and baking courses and modules as ON-CAMPUS programs, with the added benefits of being able to learn from the safety and comfort of your own home, at a time and pace that works for you. This is an ideal option for those who have physical limitations that prevent them from participating in traditional in-person culinary and baking training programs.
WHAT WILL I LEARN IN THE PROFESSIONAL PROGRAMS?
Our Professional Programs, whether ON-CAMPUS or ONLINE, equip students with techniques, and skills to enable them to qualify as competitive kitchen professionals anywhere in the world. Our curricula, which comprises both theoretical knowledge and practical skills training, teaches students not only the fundamental and advanced skills involved in cooking and baking, but also other non-technical but related essential skills such as food safety and sanitation, basic nutrition, practical kitchen math, purchasing, recipe costing and cost control, organization, proper techniques in seasoning and balancing of tastes and flavors, and other soft skills that make a well-rounded culinary professional.
HOW MANY TECHNIQUES AND RECIPES WILL I LEARN IN THE PROFESSIONAL
PROGRAMS?
There are over 120 techniques and recipes to be learnt in the Professional Culinary Arts program, more than 120 in the Professional Baking and Pastry Arts program, and over 280 in the International Cuisine program. Students who enroll in all three programs will be equipped with over 500 techniques and recipes, preparing them for a rewarding and challenging career in
the culinary, baking and pastry arts.
HOW LONG ARE THE FACE-TO-FACE AND ONLINE PROFESSIONAL PROGRAMS?
ON-CAMPUS students can complete each professional program within 4 months.
ONLINE students, on the other hand, can expect to complete each program in approximately 5 months by accomplishing an average of 1 to 2 modules per week for practical modules and 2 to 3 modules per week for lecture-only modules.
Upon successfully completing all program requirements, both ON-CAMPUS and ONLINE students are eligible for Internship placement. Upon passing the Internship and meeting all academic requirements, students will receive their professional certification (diploma) from the school.
ARE THERE OPPORTUNITIES FOR LIVE CLASSES IN THE ONLINE LEARNING FORMAT?
Live ONLINE consultations with chef instructors are held every week via Google Meet. The schedules for these classes are made available in advance, enabling interested students to plan their attendance dates and times. To participate in these live sessions, students must sign up for the class. During the live session, the chef instructor will deliver a brief lecture on the topic, offer tips to help students complete the module successfully, and answer any questions or concerns raised by the students. In addition, students can also learn from interactions and exchanges among their peers who may be attending the same consultation, or through online forums.
DO I HAVE TO STUDY, READ, AND MEMORIZE, JUST LIKE IN A CONVENTIONAL
SCHOOL SETTING?
At Global Academy, both ON-CAMPUS and ONLINE programs require students to devote time to reading, note-taking, understanding, and memorization, similar to traditional schools. This is Updated February 2023 necessary in order to pass our theoretical assessments and quizzes, which cover important knowledge in practical kitchen math, French culinary terms, concepts, and procedures that are essential to any professional culinary education.
Our approach to culinary education goes beyond just teaching recipes. We aim to provide a deeper understanding of techniques by exploring not just the "how", but the "why" behind them. This well rounded approach of theory and practice gives our graduates a competitive advantage in the industry and helps them advance their careers more quickly.
FOR STUDENTS IN THE ONLINE PROGRAMS, DOES "OWN TIME, SPACE, AND PACE"MEAN THEY LEFT TO TACKLE THE PROGRAM ALL BY THEMSELVES?
Even ONLINE students will have access to the team of highly experienced Chef Instructors from Global Academy who are available to assist them with any questions or concerns they may have regarding the course content. MEP has integrated chat and messaging features to allow students to communicate directly with their instructors. Chef Instructors will provide comprehensive and personalized video and text feedback for assessments, which students can review as many times as necessary. In this way, ONLINE students receive close guidance and mentorship from the Chef Instructors throughout their ONLINE learning journey.
This is a benefit that even most other traditional in-person schools do not provide. The phrase "Own time, own space, and own pace" means that you are free to complete the ONLINE program at your own convenience, in your preferred location, and at your preferred speed, within the framework provided by Global Academy.
HOW MUCH TIME PER WEEK DO I NEED TO DEDICATE TO SUCCESSFULLY
ACCOMPLISH THE PROFESSIONAL PROGRAM?
Considering varying levels of difficulty in the modules and diverse skills and learning abilities among students, the approximate time of commitment for studies each week is estimated as Follows:
Students enrolled in ON-CAMPUS courses should allocate approximately 16 to 19 hours a week to course-related activities in order to be successful in the program. This includes:
11 hours of in-person contact time during practical and lecture activities

2 to 4 hours of self-study and preparation for theoretical assessments

3 to 4 hours of practice for practical assessments
Please note that this projected time does not take into account travel to and from campus, and the actual time committed to self-study and preparation may vary depending on each student's abilities.
For students enrolled in ONLINE courses, the time commitment may vary as they have the flexibility to study at their own pace and schedule. To finish an ONLINE program in 5 months, at the pace of about 2 modules per week, students should allocate any where from 12 to 20 hours a week to course-related activities, including:
4 to 5 hours of procuring ingredients

4 to 5 hours of self-study and preparation for theoretical assessments

8 to 10 hours of practice, preparation, and performance of practical assessments
It is important for ONLINE students to understand that online courses still require a significant time commitment and dedication to succeed. They should plan their schedule accordingly and ensure that they have enough time to complete the coursework and prepare for assessments.
IS 5 MONTHS ENOUGH TIME TO FINISH THE ONLINE PROFESSIONAL PROGRAMS? WHAT HAPPENS IF I DO NOT FINISH THE PROGRAM IN 5 MONTHS?
All ONLINE professional programs are designed to be accomplished within 5 months, but if a student needs more time, they can extend their access to the portal by paying a monthly subscription fee. The fee increases as the student continues to use the portal, with the fee being
PhP 2,000.00 in the 6th month,
PhP 2,500.00 in the 7th month,
and PhP 3,000.00 on the 8th month and for each month thereafter (subject to approval).
IS THERE A LIMIT TO THE NUMBER OF MONTHS I CAN EXTEND TO COMPLETE THE ONLINE PROFESSIONAL PROGRAMS?
As a general rule, students are allotted a maximum residency of seven months to fulfill the requirements for a single online program. However, on a case-by-case basis, a student may be granted an extension of access to the portal beyond the seventh month for reasons that are subject to review and approval by the school management.
HOW DO I GET EVALUATED ON MY ONLINE COOKING AND BAKING PRACTICAL ACTIVITIES IF MY INSTRUCTOR IS NOT THERE TO EITHER SEE ME WHILE I PERFORM OR TO TASTE MY DISHES?
ONLINE practical (cooking and baking) assessments in the portal consist of three elements that (1) bridge the gap of a physically-absent instructor, (2) enable students to take ownership of their learning, and (3) ensure accurate grading and feedback for each student.
Narrative. After completing each practical activity, students complete a brief questionnaire that summarizes what they have learned, the insights they have gained, and any challenges and successes they encountered during the assessment submission process.

Evidence Submission. Each practical assessment will have a list of corresponding photos and videos that the student is required to submit as proof of their competency in different areas of the assessment, such as mise en place, cooking, and presentation of finished products. These pieces of evidence will serve as the bases for the student's competency. One advantage of this approach is that the student can review and revisit modules at any time and can repeat their dishes until they are deemed satisfactory for evaluation.

Taste, Aroma, and Texture Journal. As with typical face-to-face sessions in Global Academy, the professional programs offered through the portal aim to educate learners on how to recognize tastes, consistencies, textures, and aromas with the goal of creating dishes that are harmoniously balanced in terms of flavor. As such, every student must present a comprehensive explanation of these qualities in their submissions for practical assessments.
The Chef Instructor carefully assesses each student's submission, providing detailed feedback through a combination of text, photos, audio, and/or video. The student can then review this feedback as many times as necessary to fully understand and implement the important points communicated by the Chef Instructor.
DO I NEED TO BUY ALL THE ITEMS IN THE EQUIPMENT LIST TO ACCOMPLISH THE
ONLINE PROGRAM?
No, that's not necessary. The ONLINE programs were designed with a consideration for varying circumstances, so the list of required tools and equipment consists of items that are typically found in most home kitchens, such as a refrigerator, stove, oven, and basic pots and pans.
It's important to note that an oven is a requirement for both the Culinary and Baking programs, so it's crucial that the pans fit into your available oven. The requirement for both programs is an oven with at least a 45-liter capacity, top and bottom heat, and capable of fitting a 12"x16" pan.
For the Professional Culinary Arts program, the equipment required is mostly straightforward. For the Professional Baking and Pastry Arts program, the most sophisticated piece of equipment required is a handheld mixer. The largest pan required is a 12-inch x 16-inch x 1-inch jelly roll pan. Other recipes will require pans of various sizes, specified for the exacting nature of baking. Baking in a 7-inch pan requires slightly different techniques compared to baking in 2-inch pans. The same recipe can produce inconsistent results if baked in pans of different sizes, so it's important to invest in these tools to learn the intended skills. Most of these pans and other baking supplies can be found at physical or online baking supply stores or department stores.
Students who are unable to find a specific item or have limitations with their equipment can ask their Chef Instructors for alternatives. Chef instructors will be happy to assist students in finding alternative solutions for any items that are not on hand.
HOW CHALLENGING IS THE SOURCING OF INGREDIENTS GIVEN THE VARIED LOCATIONS OF LEARNERS IN THE ONLINE PROGRAMS?
Our roster of MEP Learners include those from remote areas such as Isabela, Benguet, Camarines Sur, Nueva Ecija, Batangas, Negros Oriental, Capiz, and Surigao Del Norte. Despite the relative variety and availability of ingredients and equipment, they have taken our Professional Culinary, Baking and Pastry Arts programs without encountering significant issues sourcing ingredients required for their programs. In the building of MEP, there was a conscious effort to ensure that the majority of the ingredients listed and suggested in both fundamental programs are within reasonable costs and are common items in supermarkets, groceries, wet markets, and e-commerce sites such as Lazada and Shopee.
All professional programs provide the Learners with a consolidated market list of required items or ingredients for each module, so that purchasing may be planned ahead. If a learner encounters difficulty in sourcing required ingredients, Chef Instructors will suggest substitutions.
The International Cuisine program is a little more challenging in this aspect because the various cuisines require more specialized ingredients for protein, produce, and pantry items to maintain the authenticity of nature of each dish. So far however, our current roster of International Cuisine Learners have had no problems sourcing their ingredients out. Those around the world and in the Metros who need to sharpen their skills according to the demands of their sophisticated work kitchens - Australia, South Korea, Metro Manila, and Cavite - comprise a good chunk of IC MEP Learners.
WHAT IS A CULINARY INTERNSHIP AND HOW DO I BENEFIT FROM IT?
A Culinary internship is a practical, hands-on experience in a commercial kitchen establishment. Internship is an integral part of Global Academy's professional programs and a prerequisite to graduation and earning the diploma. Internship is your opportunity to adapt the comprehensive, in-depth, world-class Culinary training and disciplines you have acquired from your Academy, onto the real world - the professional kitchen.
Data collected by our internship department over a period of 5 years reveal that 1 out of every Global Academy Learner interns (33%) receive an offer to be absorbed by their Internship venues into employment.
WHAT ARE THE REQUIREMENTS FOR GLOBAL ACADEMY'S INTERNSHIP PROGRAM?
Only Learners who have passed the in-house training of their respective Programs will be eligible and allowed to go on internship. Apart from basic procedural and documentary requirements discussed in detail upon enrollment, venues may have additional requirements for accepting interns. From experience, some venues have minimum and maximum age requirements. To align with their corporate theme and imaging, some venues do not accept interns with braces, tattoos, or body piercings. These additional requirements vary with each internship venue and must be complied to by internship candidates.
Each Globalista sent out into the real world through internship is a personification of Global Academy's world-class, Worldchefs (WACS)-recognized reputation for quality Culinary education. This is why the Academy has a department dedicated to the deployment of its Learners to its Internship Partners - the Office of Internship and Career Assistance (OICAS). An evaluation of each internship candidate is done based on performance and potentials revealed during in-house Program training. Conduct and character are important aspects as well, as each Globalista is trained not only on techniques and skills, but kitchen disciplines as well. OICAS also monitors each intern during the course of their internship, making sure that they live up to the high-standards of the Academy they represent.
WHAT KIND OF INTERNSHIP VENUES MAY I BE ELIGIBLE TO BE PLACED?
Global Academy has established partnerships with a wide variety of food service establishments who accept our interns. These include 5-star hotels, resorts and country clubs, fine dining and casual restaurants, and commissaries.
Most of our Internship Partners are located in Metro Manila, with a few in Cavite. A Learner who prefers to do an internship in a venue that is not a Global Academy Internship partner may seek approval from the Internship Program Manager of OICAS. An evaluation process shall then commence which shall result in approval, should the venue meet the required qualifications of the Academy.
In partnership with private placement agencies, Global Academy also provides its Learners with internship opportunities outside of the Philippines. We have deployed interns to the United States, Spain, France, the Middle East, Japan and Thailand. Fees for international internship will be shouldered by the Learner-intern. Some of our interns were given salaries or allowances during their stints and with this, were able to earn their investment back within one year. To be eligible for internship abroad, the candidate must have successfully completed at least 2 courses (Level 2 Certification or Grand Diploma) in Global Academy, in addition to 4 months of local internship.
As of 2023, our partial and updated list of venue partners include the following establishments
HOTELS, RESORTS, AND COUNTRY CLUBS
The Peninsula Manila

Hilton Manila

City Of Dreams Manila (Nuwa Hotel, Nobu Hotel, Hyatt Regency Manila)

Sofitel Manila

New World Hotel Makati

Marco Polo Hotel Ortigas

Joy Nostalg Hotel and SuitesOrtigas

Crown Plaza Galleria

City Garden Grand Makati

Acacia Hotel Manila

Taal Vista Hotel

Palms Country Club

Bay Leaf Cavite
RESTAURANTS
Gallery by Chele

Bistro Elite Group of Restaurants by Josh Boutwood (Savage, Helm, Test Kitchen,

Ember)

Hapag

Wildflour Group of Restaurants

Raintree Group of Restaurants (Farmer's Table Tagaytay, Providore, Izakaya Sensu, Chotto Matte, Chacha's Boracay, Friends and Family, Jones All Day)

Sumosam Group of Restaurants (Sumosam, John and Yoko, Mr. Kurosawa)

Mama Lou's Italian Group of Restaurants ( Mama Lou's, Nonna)

Black Pig Group of Restaurants (Black Pig, Pig Pen)

Ikomai and Tochi

Ninyo Fusion Cuisine and Wine Lounge

Fire Lake Grill Tagaytay

Morgano Tagaytay

Wobbly Pan Spanish Restaurant
COMMISSARIES
Unilever Food Solutions

Del Monte Philippines

Delimondo Cafe

Kumori Bakery
Global Academy has no control over the availability of slots for venues and waiting time for placement varies depending on the time of year. This list of venue partners is also updated several times a year and is continuously growing.
WHAT KIND OF JOBS WILL I BE QUALIFIED TO APPLY FOR WITH A GLOBAL ACADEMY DIPLOMA?
When you are a Global Academy diploma or certification holder, you have proof on paper that you have been trained and mentored by multi-awarded, industry-experienced Chef Instructors. Your diploma creates a reputation that will precede you, that of having accomplished the required Culinary and Baking techniques, skills, and disciplines in an Academy which was first in the Philippines to be recognized by the World Association of Chefs Societies for Quality Culinary Education (WACS-RQCE).
The internship food establishments have most likely had immersions in worldwide culinary competitions, and Global Academy is the first and only 3-time Overall Champion in the Philippine Culinary Cup. We bested all other food establishments and institutions during our first victory, and all other Culinary schools in our second and third overall (back-to-back) win.
As far as the jobs you are eligible to get with a Global Academy Diploma therefore, you can be confident to seek the future you have aspired for since you decided to formally train in Culinary and Baking Arts with us, whether it be national/international employment or entrepreneurship.
Global Academy prides itself with its growing roster of alumni who are living their Culinary and Baking dreams and goals here and abroad. Get to know them and be inspired with their journey by visiting www.globalacademyph.com
A survey conducted by the Philippine Overseas Employment Agency (POEA) in 2018 with private recruitment agencies revealed that professional cooks are among the top 5 land-based skills in-demand abroad. The same survey for sea-based professions also showed a top 10 inclusion for in-demand jobs as a professional cook. These survey results have been true and consistent for many years, as labor or human capital remains the Philippines' most important export. Professional cooks are constantly in high demand in many countries, making food and beverage positions among the most sought-after and well-paying jobs for Overseas Filipino Workers (OFWs). It is no surprise then, that food and beverage positions are among the most sought after and well-paid jobs for this set.
SourceCredit: https://www.workabroad.ph/blog/item/175/7-in-demand-jobs-for-filipinos-who-want-to-work-abroad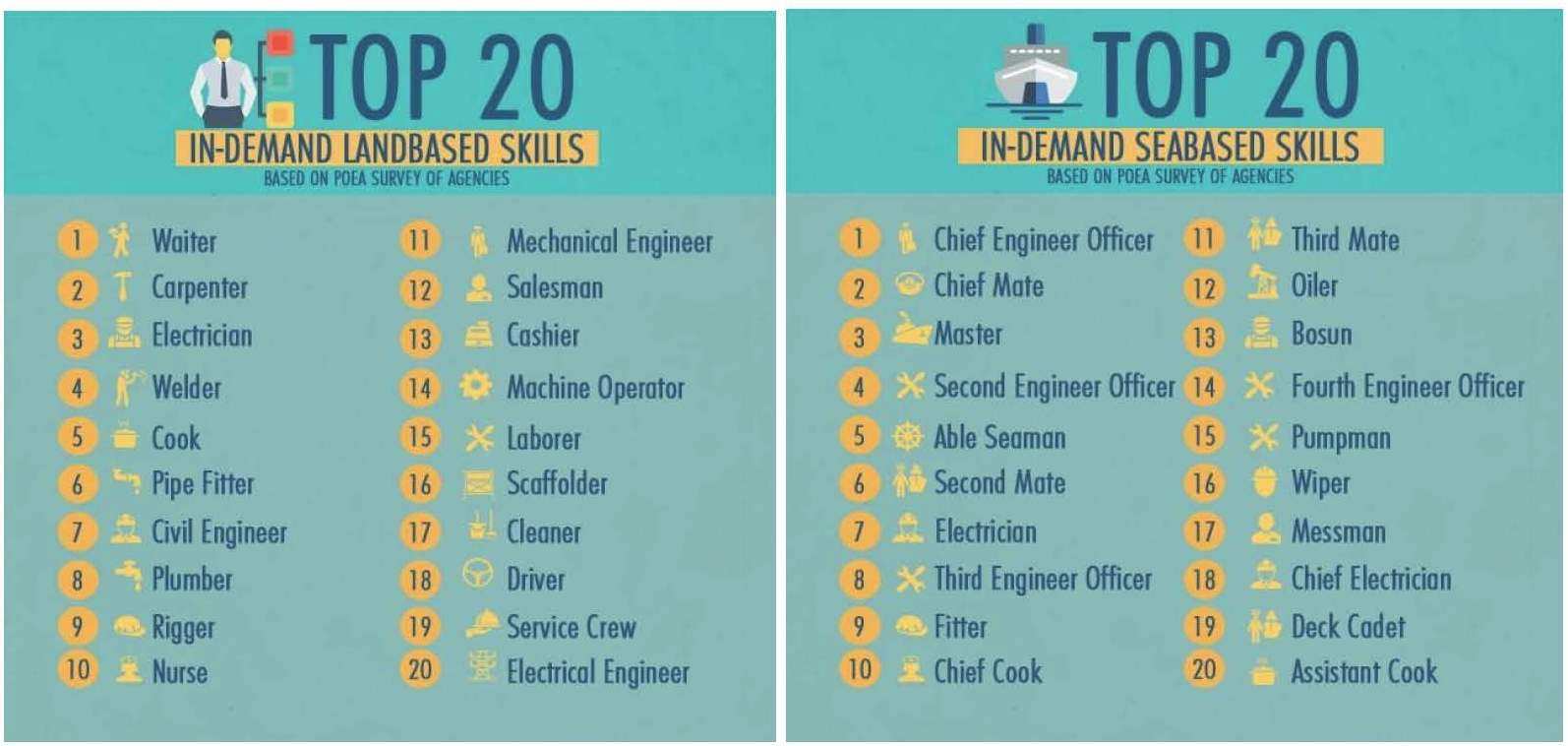 Source Credit: https://www.gmanetwork.com/news/pinoyabroad/news/640051/in-demand-jobs-in-top-ofw-destination-countries/story/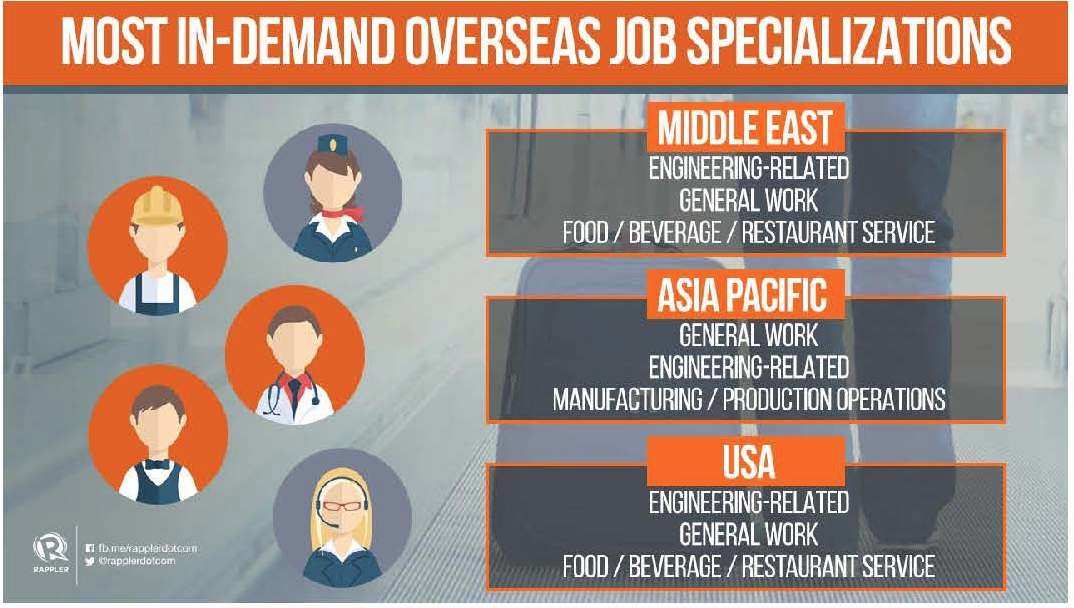 Source Credit: https://www.rappler.com/nation/overseas-jobs-salary-report-work-abroad-ofws-2017
TUITION FEES, PAYMENT, AND ENROLLMENT
WHAT IS THE TUITION FEE FOR FULL AND INSTALLMENT PAYMENT PLANS FOR THE PROFESSIONAL PROGRAMS?
The approximate investment for FULL PAYMENT and INSTALLMENT for ONLINE COURSES are as follows:
The approximate investment for FULL PAYMENT for IN-PERSON COURSES are as follows:
*International Cuisines is currently available as an online program only.
Tuition promos valid until May 2023 only. Prices may change without prior notice.
Please contact us to inquire about the latest tuition fees and actual computations.
WHAT ARE THE AVAILABLE PAYMENT METHODS?
The following convenient options are available for settlement of tuition fees:
Cash and check deposits to Global Academy's Bank of the Philippine Islands (BPI)account.

Online cash transfers via GCash or Dragonpay.

Online bank transfer from your bank to Global Academy's BPI account.

Credit card payments via PayPal.
WHAT ARE THE INCLUSIONS IN THE PROGRAM TUITION FEES?
For FACE-TO-FACE programs, the tuition fee gives 24/7 access to all Modular e-Learning Portal (MeP) course materials for the duration of the course enrolled in. Course materials are all digitally-housed in the MeP. These include lecture videos, high-definition Instructional videos (recipes and techniques, theoretical and practical assessments), and one-on-one mentoring and weekly consultations or online lecture sessions with your Chef Instructors. In addition, FACE-TO-FACE enrollees are also provided the following:
Uniform Set: Chefs Jacket, Pants, Skull Cap, Apron

Starter Kit (Knives and other Tools)

Kitchen Tools and Equipment for on-campus assessments

Ingredients for on-campus assessments

On-campus demos to reinforce videos on MeP
For ONLINE programs, the tuition fee gives 24/7 access to all Modular e-Learning Portal (MeP) course materials for the duration of the course enrolled in. Course materials are all digitally-housed in the MeP. These include lecture videos, high-definition Instructional videos (recipes and techniques, theoretical and practical assessments), and one-on-one mentoring and weekly consultations or online lecture sessions with your Chef Instructors. ONLINE MeP Learners have the option to purchase uniforms, knives and other tools from the school. They may also opt to purchase culinary and baking textbooks, to supplement their MeP learning.
A student who is eligible for internship must pay an additional PhP500.00 Placement and Processing fee if he or she will participate in the Internship Program.
WHAT IS THE AGE REQUIREMENT FOR ENROLLMENT?
In conformity with TESDA guidelines, Global Academy accepts enrollees from ages 18 to 55 years old.
Our Global Academy sales team will be happy to walk you through the process. You may reach our brand ambassadors through:
April De Luna
Senior Brand Ambassador
ba1.mepglobalacademy@gmail.com
0927-974-8089
Smile Gatbunton
Brand Ambassador
ba2.mepglobalacademy@gmail.com
0956-670-8599
You can also click here to apply online. The procedure is convenient and easy to follow.
Enrollment for our FACE-TO-FACE programs in our Ortigas Center, Pasig campus is currently
ongoing, with the following projected intake schedules for 2023:
PROFESSIONAL CULINARY ARTS
PROFESSIONAL BAKING AND PASTRY ARTS
ONLINE programs on MeP are asynchronous, and the learner may start within fourteen (14) calendar days after enrollment requirements and procedures have been accomplished, and tuition fees have been settled. A Learner who wishes to delay his/her start beyond this time window may course this request through our Brand Ambassadors. Approval or denial of such requests will be on a case to case basis, as deemed appropriate by management.
WHAT ARE THE ELIGIBILITY REQUIREMENTS FOR ENROLLMENT IN PROFESSIONAL PROGRAMS?
Those interested in pursuing our certification/diploma programs should have finished at least High School or Grade 12 upon enrollment. We accept enrollees from ages 18 to 55 years old. Minor Learners, aged 16 to 17 years old, will be required to sign a consent and liability waiver for minors, together with their parent or guardian.
WHAT US VETERANS AFFAIRS (USVA) EDUCATION PROGRAMS DOES GLOBAL ACADEMY OFFER?
USVA Education programs accepted at Global Academy are the following:
Chapter 31 – Vocational Rehabilitation is for disabled service connected veterans. This is the most unique program. These disabled service connected veterans go through a testing process to determine if they are eligible for the benefit. If eligible, the VA sends an Authorization. Full tuition, fees, books, and in some cases, even parking fees are paid by the VA to the school. In addition, the student gets a monthly allowance depending on the training status.
Global Academy will not be responsible for processing the refund of the student. The student will process their refund from the USVA.
Chapter 33 – The Post 9/11 Veterans Educational Assistance Act of 2008 is for veterans whose date of discharge is on or after September 11, 2011. VA pays full tuition and other school fees directly to the school. In addition, the student gets a monthly housing allowance and books and supplies stipend. This program is transferable to eligible dependents of veterans.
Global Academy will be responsible for processing the refund of the student from the USVA.
Chapter 35 – The Dependents Educational Assistance Program is the only benefit for individuals without military service. It is for the dependents of a member of the Armed Forces who has died while on the active duty or as the result of a disability that VA has determined is service-connected, or is 100% permanently and totally disabled for a service-related reason. Dependents receive up to 45 months of full–time benefits. Children generally are eligible for benefits between the ages of 18 and 26, but in certain instances may begin before age 18 and continue beyond age 26.
Global Academy will not be responsible for processing the refund of the student. The student will process their refund from the USVA.
According to the USVA (click here for official USVA page), eligible applicants may receive as much as the following tuition benefits: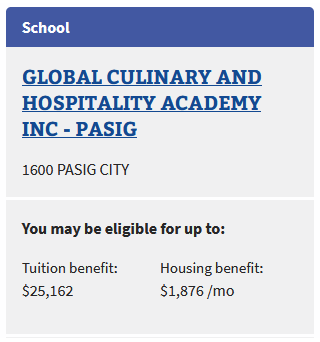 To find out more about US Veterans education benefits, eligibility and application process,
please visit https://www.va.gov/education/
DOES GLOBAL ACADEMY OFFER SCHOLARSHIP PROGRAMS?
The school has limited slots for partial or full scholarships for those who are qualified. Eligibility for scholarship may include, but not limited to the following criteria:
Natural-born Filipino citizen

Between ages 18 to 30

High School Graduate

Good moral character

Academic excellence and a strong educational background.

Financial need or demonstrated economic hardship.
Supporting documents will be required to prove eligibility. For details, please email your inquiry to info.globalacademyph@gmail.com.
ABOUT THE SCHOOL
WHERE IS GLOBAL ACADEMY LOCATED?
Global Academy's physical campus is conveniently located in Ortigas Center, Pasig City. For students who live in distant areas, MeP offers online professional programs to enable remote learning at your own pace and venue.
WHAT INDUSTRY ACCREDITATIONS AND RECOGNITIONS DOES GLOBAL ACADEMY HAVE?
Global Academy is the first Culinary school in the Philippines and the 7th in Asia to be given the Recognition of Quality Culinary Education (RQCE) by the renowned World Association of Chefs' Societies (WACS).
As a WACS-recognized school, Global Academy Learners who successfully complete their professional programs are eligible for fast track certification. Grand Diploma graduates are eligible for fast tracking to Commis, and International Cuisine graduates, for Chef de Partie.
Our professional Culinary and Baking programs are also accredited by the Technical Education and Skills Development Authority (TESDA). Learners who successfully complete our programs can take the certification assessment of TESDA and earn their National Certificates in Culinary (NC2 Cookery and NC3 Commercial Cooking), and Baking and Pastry Arts (NC2 Bread and Pastry Production). These documents are useful especially for job applications outside of the Philippines.
Aside from being award-winners and industry experts, Global Academy Chef Instructors are Servsafe® Certified Food Protection Managers, Instructors, and Proctors. There are also a couple of WACS-certified competition judges in the school's faculty roster.
VISIT US AT www.globalacademyph.com